Annie's has now moved to our sister site on sukhumvit soi 7/1. All staff and services will now be found there under the name Chrome.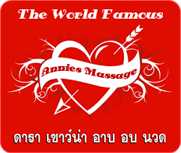 Opened in 1972 The World Famous Annie's Soapy Massage Bangkok is the longest running licensed soapy massage parlour in the Nana/Sukhumvit area, if not Bangkok.
With customers from all over the world including expatriates, Annie's special service is renowned for it's "well you all know what" This is Bangkok massage is it not?
When visiting Annie's you can be sure of Customer Service with a Personalised feel, Choice of up to 100 girls, Open Attitude, No clock watching, Competitive Prices, Free Wireless Internet, Fully stocked bar, Food, frank and honest recommendations about our staff and much more. Annie's when it opened in 1972 was the only Soapy Massage parlour in Bangkok focused solely on customers visiting Thailand.
Since then and like all businesses, Annie's Soapy Massage Bangkok has gone through its ups and downs but since 2004 with its change of management, Annie's Soapy Massage Bangkok Sukhumvit has gone from strength to strength, making it one of the key nightlife venues of Bangkok. On many internet polls Annie's is voted Thailand's Best Soapy Massage Parlour. The starting 12 staff that the new management took over management with, is now "on the books" an impressive 100 staff and growing. Also the addition of more rooms and different style staff has increased interested in this world famous Bangkok institution. Annie's due to its popularity is also widely posted about on many forums.See some example comments below that have been cut and paste from forums and blogs about Bangkok Massage
"Great time at Annie's came in to Annie's first time, and had the best of time! the massage you get there is like nothing you'll get anywhere else. Great service and really friendly staff that aren't pushy, which is a big Plus for me! will come there again on my next vacation for sure"
(Customer from Germany) "Annie's is the best massage in Bangkok" (Forum review)"I have been visiting Annie's for 10 years and I have never left without a smile" Contact:
Annies (Bet soapy massage Bangkok)
Wood bar
Chrome Bar